You may know of the importance of having security cameras in your home but are you aware of how to strategically place them throughout your house? Do you know what the cameras can be used for other than home burglaries? We connected with Doyle Security's very own Ed Schoepfel to get the inside scoop on what's best when it comes to home security cameras.
Q: What is the optimal amount of security cameras to have in a home?
A: This always depends on what the customer would like to see or protect. Typically, I like to recommend covering certain areas depending on the layout of the home or finding out exactly what the customer would like to see. I've had clients install eight cameras and then decide they'd like to add more. A four to eight camera system is usually very good, but again, this is truly more of a customized program.
Q: Where are the best places in the home to place the cameras? Why?
A: If installing inside cameras, placement is very important. I feel inside Cameras should be used for specific areas only. For this reason, cameras should be placed in generally common areas, like safe rooms, family rooms, living rooms, kitchens and/or basements. These are all general areas to give you the most coverage without taking away privacy.
Q: Where are the worst places in the home to place the cameras? Why?
A: Bedrooms, unless the home is vacant or unoccupied or there's extreme value in that area. Why? For privacy issues. Good camera systems are 24/7.
Q: What can home security cameras be used for other than burglaries?
A: Keeping an eye out for the kids and their activity in the home, domestic help, keeping an eye out for elderly parent or spouse, looking in on pets. If you travel, having a camera inside also helps in keeping a view, remotely, on things let a petsitter or housekeeper.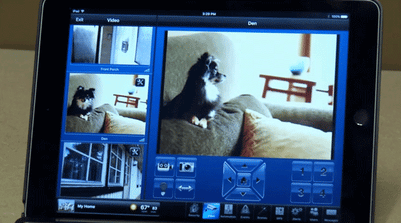 Q: What's one fun fact most people might not know about home security cameras?
A: Haha…. The camera always tells the truth and never lies….
You can install cameras and take your home to the next level today by filling out a consultation form on our website, calling 1-866-GO-DOYLE or visiting here.