Every October, Rochester holds one of the American Cancer Society's annual Making Strides Against Breast Cancer Walks in downtown Rochester to raise awareness for the cause. Doyle Security has put together a team for the past 14 years and each year tries to raise even more money to support awareness and research about one of the leading causes of cancerous death in women.
Sheila DeSimone, Doyle Security's Billing Coordinator and Safety Manager, helps organize members of the company to donate to the American Cancer Society and represent Doyle at the walk. Sheila has a personal connection to the walk as a breast cancer survivor, and she has said, "I support the American Cancer Society Making Strides Walk because when I was diagnosed with breast cancer 15 years ago they were there for me. The ACS staff personally gave me the tools and information that I need to educate myself and that took a lot of fear out of my cancer journey. It is great to attend the walk and visit the Survivor's tent where there is always a hug waiting for me there."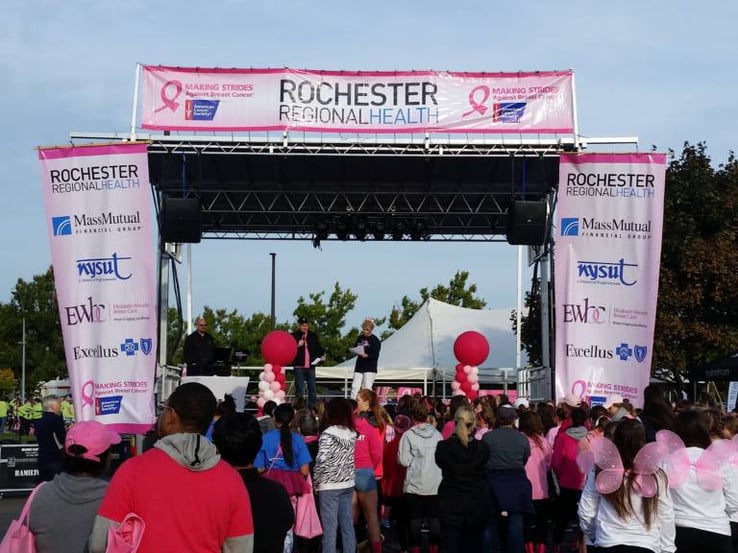 The team at Doyle Security Systems believes giving back is the way to keep their community healthier and safer, and joins the rest of us as walkers in such an important and moving event. Their team raised $2,430 this year to support breast cancer research, survivors, and caretakers in the fight against breast cancer. Doyle is proud to be supporters of the American Cancer Society and donors to those who are fighting or helping to fight such a life-threatening disease.
If you would like to donate to the fight against breast cancer, please visit the American Cancer Society website or click here to be taken to the page.